Location
Montreal, Quebec
Sub sector
Office Building
Client
First Quebec / Westcliff
Completion Date
Completed - Jan 1988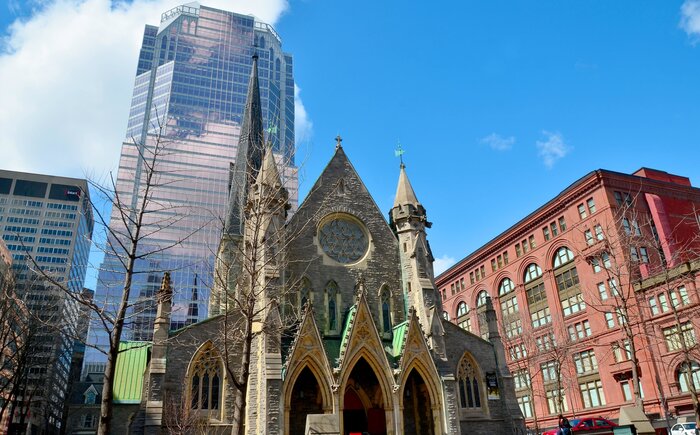 KPMG Tower
This complex is considered one of the most prestigious in downtown Montreal, its construction being a real tour de force. At 146 m high, it is one of the tallest buildings in Montreal, with 34 floors of office space and a 2-storey underground shopping centre, Promenades de la Cathédrale, connected to the underground pedestrian network and the McGill metro station.

unique construction work
The construction involved suspending the 18th century church on temporary stilts while the shopping centre was being built below it.
With a reinforced concrete structure and an aluminum and glass structure, the building features a system of curtain walls offering the occupants an exceptional view and maximum light. It features a unique postmodern architectural style, with vertical mullions on the tower's pink curtain wall that replicates the cathedral's bell tower, and the twin pyramids on the top of the tower in reference to the twin bell towers on the façade opposite the belfry.
The building also has 11 lifts and 441 underground parking spaces.
This project unites the KPMG office tower and the underground shopping centre Les Promenades de la Cathédrale. It is exceptional because of the unique construction work carried out under the presbytery and the Anglican Church "Christ Church Cathedral" with its neo-gothic signature. The church is listed in the repertoire of Quebec's cultural heritage. Through the application of innovative structural strategies, the church was given a new support slab, which acts as a huge platform then supported by temporary columns allowing access below.
Due to the project's program, this technique was not chosen for the presbytery, especially since the statements of the Ministry of Culture required a complete upgrade. Each component of the presbytery was indexed in anticipation of careful dismantling. The stones, all numbered, were transported off-site. The crowning sandstones showed several signs of fatigue: split edges, shear and crumbling, which the epoxy compounds were able to repair. The original work did not take into account the distinct physical characteristics of the two types of stone that make up the envelope, which were joined by the same mortar. The forces acting on the base stones overworked the detail stones. When the structure was reconstructed on new foundations, the mortar mixes varied according to the junctions. The old rubble stone foundations were replaced by concrete and bush-hammered St-Marc stone to match the original structure as closely as possible. These structures are now a popular tourist destination in Montreal.
Gallery